ENTERPRISE MOBILITY
With our deep industry knowledge and technical expertise across verticals, we help enterprises and SMEs in their journey towards being a 'Mobile First' organization.
Enterprise Mobile Strategy
Our consultants assess Enterprise Mobile Maturity and help in addressing strategic mobility needs of the organization at all levels
During the Mobility Opportunity Assessment (MOA) process, an EM3 Model (Enterprise Mobility Maturity Model) is applied to categorize the enterprise into Void, Exploratory, Intermediate and Expert areas, depending upon the current state of mobility in the enterprise.
Thereafter, we help in their transformation towards creating a future-proof organization, through continuous improvement following the Run – Sustain – Innovate framework.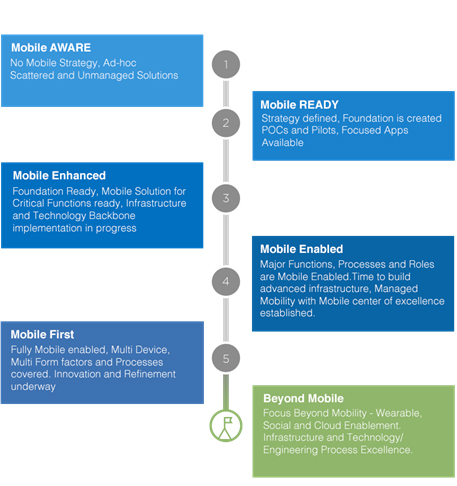 Application Development – STRENGTHEN YOUR MOBILE BACKBONE
Establish your Mobile Architecture, Security, Performance, Usability and Support framework with our futuristic vision of Mobile Application Development.
Our futuristic vision of Mobile Application Development takes into account every aspect of the app dev. blueprint, including security, performance, usability, scalability and cross-platform readiness, to ensure the success of the client's mobile initiatives.
Our time-tested and bellwether application development services helps businesses evaluate and implement development models that suit their business needs the best.
Our engineers follow a business value-led approach to mobile application development, leveraging their expertise in 70+ tools across native, web and hybrid platforms.
While choosing the ideal platform, our experts consider various framework dependencies and take into consideration various mobility parameters like scalability, application performance, user experience, security, licensing costs, integration limitations and source code reusability.

Our mobility consultants help in strengthening your mobile Center of Excellence (mCoE) by addressing challenges relating to Mobile Architecture, Security and IT Operations/Support. This is achieved by:
Defining mobility specific standards, technology and security policies.
Assisting business leaders in defining their mobile strategy.
Conducting thorough reviews and evaluation of ongoing mobility projects.
Providing training and technical support to establish best practices within your organization.
Providing thought leadership through constant updates on mobile technology.
Testing Services
Mobile Application Testing is one of the most critical aspects in the development process, which ensures applications perform consistently, across the plethora of mobile devices, platforms, and networks.
Our test laboratory thoroughly tests mobile applications in more than 300 mobile devices, across various platforms using advanced automation tools such as Robotium, Selenium etc. to ensure seamless and error free performance.
The Private Virtual Device Cloud helps utilize all devices, networks and Operating Systems to the fullest.
An OpenStack based private cloud has added multi-scaled value to our Continuous Integration, Continuous Testing, Continuous Delivery and Continuous Deployment – the regression testing has never been so easy!
Integration Services – EXTENDING THE REACH OF YOUR IT
Seamless integration processes, involving complex data sources, backend systems, middleware applications, device management modules and SOAs
Delivering expertise in integrating with numerous IT systems to help your organization reap the benefits of mobility, quickly and effectively
Our teams have assisted customers in designing and developing complex mobile middleware components that cater to various mobility challenges, such as handling of multiple file formats, media formats, data sources, content re-purposing, as well as enabling application management capabilities like:
Right-sizing application features
Managing device compatibility
Group policy application management
Remote configuration and control
Uniform security control
Engaging Digital Experience
We provide spectacular user experience design with high usability, accessibility and interaction
Unleashing Enterprise Potential
We leverage decades of experience and world class technology to build solid, robust solutions and apps
Sustaining Innovation
We deploy parallel focused teams to discover, nurture and sustain an innovation cycle